DrinkControl Press Kit
DrinkControl – a Drinking Diary App
DrinkControl takes bottles, glasses, and shots and converts them into units of alcohol (also known as "standard drinks") so people can make more informed decisions about their intake. Many of us enjoy a glass of wine after a busy day, but few know what that means to our real alcohol intake, especially over time. DrinkControl demystifies units of alcohol in ways other apps don't.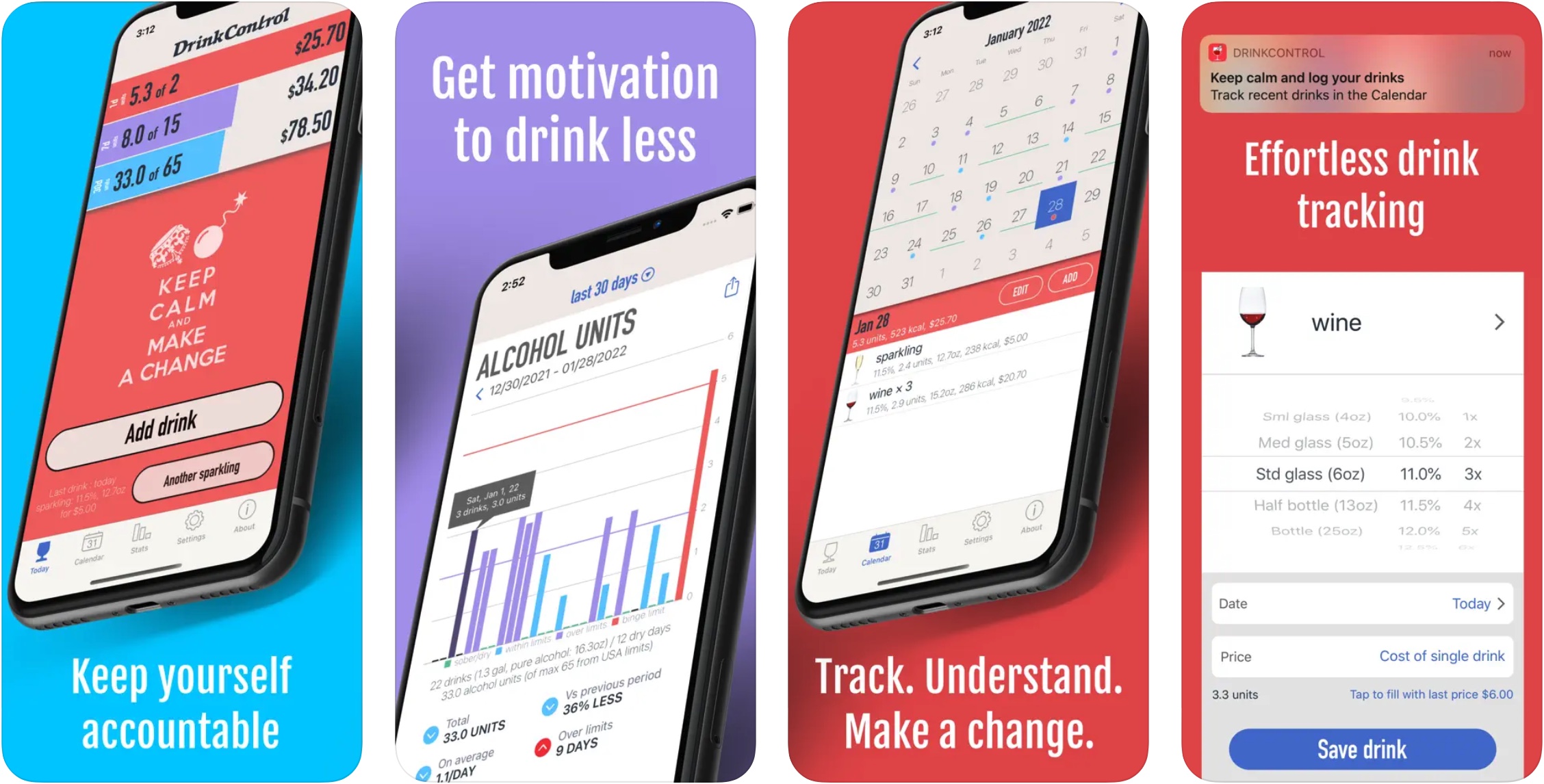 If you are writing about healthy lifestyle we'll be happy to support you in any way we can. Get in touch!
App Details
DrinkControl is a drinking diary, helping people keep track of what they drink and when they drink it. With so many different types of drinks available it can be difficult to keep track of the one constant — units. What *is* a unit of alcohol, anyway? DrinkControl means people can keep track of how much they're drinking at all times and across days, weeks, and months. That tracking means people can keep themselves accountable — a vital motivation in making changes like drinking less.
Drinking less can have all kinds of benefits ranging from saving money to helping with health problems. Sometimes we just don't realize how much we drink until it's tracked. DrinkControl makes that quick and easy and turns drinks into data that will help people make a better decision about that next drink.
Features
- Quick and easy logging of drinks, whether you are a wine fan or more of a lager drinker.
- Track your dry/sober days.
- Custom drinks and volumes mean people can track their favorite drink no matter what it is.
- Easy comparison of alcohol intake with the moderate/low risk alcohol use guidelines in a given country.
- Calorific data – alcohol isn't the only thing in that beer and everyone would be surprised how many calories they're drinking.
- Health app syncing means standard drinks/units consumed and calorie intake data will be taken into account by Apple's Health.
- Monetary tracking - know how much you're spending on alcohol.
- Stats and charts to know everything there is to know about your drinking.

Who is DrinkControl for?
DrinkControl is for anyone who wants to be better informed about the drinks they consume and the amount of alcohol they contain. The reasons are varied, whether it's to help cut down on alcohol intake on the advise of a doctor, or to simply try and reduce that beer belly. Whatever the reason for tracking alcohol, DrinkControl can help.
DrinkControl is a great tool for anyone who wants to track their intake and use that data to make a change to their use of alcohol.
Pricing
DrinkControl is free to download from the App Store with an optional in-app purchase (as monthly or yearly subscription, or as one-time lifetime unlock) that enables additional features, including:
- Set and customize reminders to track drinks.
- Statistics and charts for the last month, week, and year.
- A personalized infographic puts all of the user's drinking data into an easy-to-read graphic.
- Add favorite drinks for easier and quicker tracking.
- Export data for use in spreadsheet apps like Excel and Numbers.
- Back data up to iCloud or Dropbox so people never lose it.
- Choose from alternate app icons to make sure DrinkControl matches the user's Home screen aesthetic.

Links & Contacts
AppStore Page: https://apps.apple.com/app/apple-store/id456207840
Privacy Policy: https://drinkcontrolapp.com/privacy.htm
Contact email: info@drinkcontrolapp.com

About Moderate/Low Risk Alcohol Consumption
The truth is most people don't understand the guidelines for moderate alcohol consumption. DrinkControl allows easy-to-use tracking of alcoholic beverages to compare your habitual drinking trends with the moderate drinking guidelines from leading international health organizations.
World Health Organization estimates that harmful use of alcohol causes approximately 3 million deaths every year, with 7-19 liters of pure (100%) alcohol consumed yearly by the average drinker. Evidence indicates that, among those who drink, higher average alcohol consumption is associated with an increased risk of death.
On the other hand, some studies demonstrate that moderate alcohol consumption reduces the risk of cardiovascular diseases and diabetes, or may have positive impact on life expectancy.
Although the guidelines recommending moderate alcohol consumption are developed by the World Health Organisation and other national health organizations, people are not often informed about them nor do they observe them in their daily lives. Instead of considering our consumption in alcohol units (also known as standard drinks) or grams of pure alcohol (the basis of moderate drinking guidelines), we simply consume our beer, wine and spirits in their available containers without giving them a second thought.
What is alcohol unit/standard drink: https://drinkcontrolapp.com/support.htm#unit
Moderate/low risk alcohol guidelines: https://drinkcontrolapp.com/support.htm#limitsUS
Calories in alcohol: https://drinkcontrolapp.com/support.htm#calories

App Logo and Screenshots
Please download media kit with app icon and screenshots as .zip file or righ-click on images below to download images individually.